Spyderco FB29GBBK Pygmy Warrior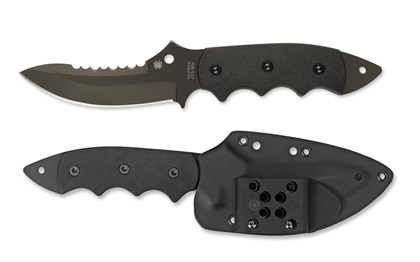 FB29GBBK Pygmy Warrior by Bob Taylor
Spyderco

The Warrior fixed-blade is one of the world's most intriguing
combat knives. Based largely on the groundbreaking research
of close-combat icon Michael Echanis, the original Warrior's
design was intended primarily for use with reverse-grip tactics
inspired by the Korean martial art of Hwa-RangDo.
Produced in limited quantities by the late Al Mar and later
resurrected by the martial artist Bob Taylor and Echanis
contemporary RandyWanner with our revitalization happening
at the request of Spyderco Israeli customer Guy Rafaeli.
The Spyderco Warrior features a number of performance
enhancements. Full-tang construction and handle scales provide
a superior grip and edge orientation, maximizing the knife's
effectiveness when employed with its signature tactics.


Pygmy Warrior by Bob Taylor

Smaller, hobbit-sized Warrior with removable G-10 handle
scales that can be "stacked" to customize handle thickness.
Features
Lanyard Hole: Yes

Blade Steel: CTS BD1

Handle Material: G-10 Stackable Scales

Blade Grind: Hollow-grind

Edge Configuration: PlainEdge Lower Edge - SpyderEdge Upper Edge

Sheath: Boltaron with mulit-positional G-Clip
Specifications
Overall: 9.25" (235 mm)

Blade: 4.6" (117 mm)

Edge: 3.9" (100 mm); 1.9" (49 mm)

Weight: 7 oz. (197 g)

Country or Origin: Golden, Colorado U.S.A.


Retail Price:

$309.95

| | |
| --- | --- |
| | |
| Your Price: | |
| You Save: | $123.98 (40%) |